Our Features at No

Extra Cost:
Transportation to lower 48 states

Choice of Cabinet colors: Black, Grey

Short Cabinet for Built-In Installations

Solid Door with Adjustable Shelves

Glass Door Option ($10.00)

Interior LED Light

Automatic Defrosting

Right or Left Hand Hinge

Lock & Key Option ($10.00)

Warranty Included

Spare Parts Included

Energy: 65 Watts, .06 Amps
110V, 60Hz or 220/240V, 50Hz

How to Run a Minibar System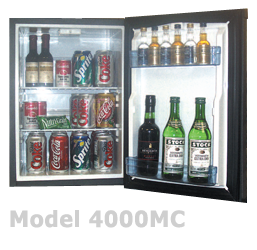 The above package is being offered to you at our low price of ----------- delivered.


Models 3000MC, 3600MC, 4000MC and 5000MC
Contact Us:
Please also visit
our Website at
www.bar-maid.com for complete PRODUCT information including downloadable catalogs on all our models. Our INQUIRY form is also always available to send your request for additional information. We look forward to the pleasure of serving you.
Best Regards,
Bar-Maid Corporation
Toll Free: 800.227.6243
Fax: 973.478.2106